It's that time of year again…holiday parties, festive decorations, and businesses competing for your money in an seemingly endless flurry of ads and discounts. I love this season despite a few hectic moments. I get to be with my family and sit down together to share meals and play games. If you are still considering gift ideas for your friends, colleagues or family, or perhaps you need ideas for games to play at the holiday party, I'd like to help you out by recommending some fun games that promote speech, language and cognitive skills. And these games are fun for both adults and children! Continue reading
Please follow and like us: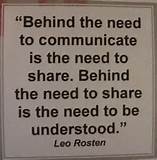 When it comes to understanding someone who is from another culture who has a strong foreign accent, how do we listen more effectively to assure that the exchange is successful? Both the listener and the speaker are responsible for making sure that each party has understood. Both the listener and the speaker can use strategies to improve the situation. Here is a tip for the listener who is listening to the hard-to-understand person:
Be educated about the differences between languages. Certain languages have characteristics that are unique to that language. Since a language learner adapts what he knows about his language onto the new language, real differences in the way words are spoken occur. This fact can make the second language learner difficult to understand and can be a distraction to our ears.
There are many languages that don't sound at all as rhythmic and melodious as English.
Please follow and like us: