Do you deliver with credibility and influence?
What is your biggest fear about getting up to speak in front of a group?
Are you fearful that your voice will shake?




Or that you will stumble over your words?




Do you fail to communicate your message adequately?




Is it hard to stay on topic?




Does a foreign accent make you hard to understand?




Or is it that you just hate getting up in front of people to speak?
"Lynda is a great teacher, motivator and mentor. With her program I found myself managing my organization and conducting meetings with more clarity…more confidence…more organization…more success and MORE FUN!! I would not hesitate to work with Lynda in the future."
-Thomas D., Sr. Director
"Lynda, I want to thank you for the coaching you provided to me. I just came back from a big presentation and received excellent feedback. My boss told me he wanted me to do more in the near future (and he was the one who said I wasn't a very good speaker before I started your services.) Thanks so much; this was the best thing I've done for myself in a long time."
-Jon S., Senior Marketing Manager
I have had multiple clients tell me that when they speak in front of groups or even with certain individuals, their voice is shaky and they lose track of their words.  They don't feel confident at all that they are connecting with their audience.  They know that they are speaking way too quickly but they can't slow down. When asked questions, they can't formulate a good response.  They don't feel they have command of the room or the topic.  Forget about being influential or persuading the audience to do something.  All that they want to do is to sit down.
All of these speakers have one thing in common, they are mortified to speak and it shows through their speech, language and voice skills.
Often, these problems lead to disastrous results when it comes to professional networking, making proposals and presentations to staff or your boss, or getting your customers or clients to buy-in to an idea or a product or a service.  Credibility, confidence and trustworthiness are all compromised without communication skills that rock!
We can help you become the polished and credible leader you want to be at your organization.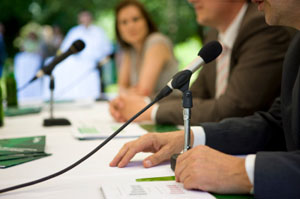 Are you ready to portray the professional that you want to be?
Are you ready to receive accolades for your strong speech skills?
Are you ready to become the leader you want to be making more money and having more influence and greater impact with your colleagues, and your boss?
Let's chat! Sign-up for a FREE Strategy Session today! This will be an incredible first step for your future and it will help you achieve your professional goals and boost your self-confidence.